New illustration visualizes cutting edge inner core research for U of I Champaign-Urbana!
Interesting new research suggests that the innermost core of the Earth has another distinct region, and we're glad to help Prof Xaiodong Song and his team at the University of Illinois at Urbana-Champaign visualize this new finding. Excellent work, team!
Check out the full article here: http://www.bbc.com/news/science-environment-31322817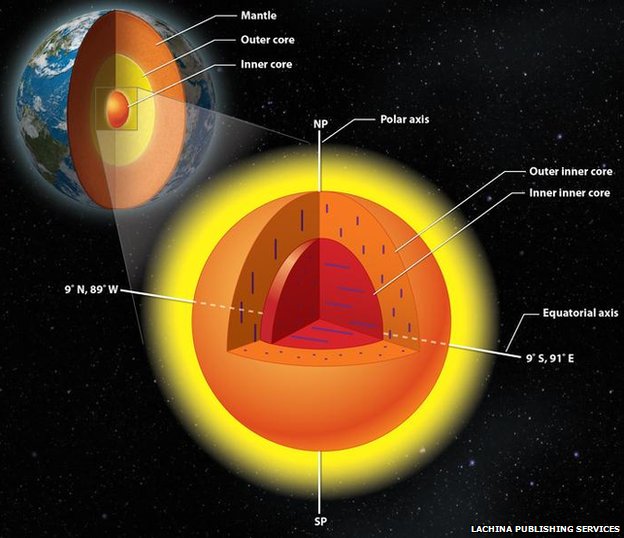 ---

Job Posting: Media Resource Manager
Position: Media Resource Manager
Location: Champaign, IL
Supervisory Responsibilities: Yes
Travel: Occasional travel required
Job description:
Lachina is a print and digital content development company with offices in Cleveland, Ohio and Champaign, Illinois. Lachina employs multiple means of delivering a core message in an entertaining, comprehensive, and scientifically accurate package with verifiable outcomes, including print and digital learning projects. For more than twenty years, Lachina has been developing and producing content for the publishing and education industries (including hospital and medical facilities) in the disciplines of science, medicine, mathematics, humanities, social sciences, business and economics, and foreign languages. Lachina's broadened services include website design and maintenance, 2D/3D animation, video production and more. Lachina embraces a fun, innovative, and team-oriented culture and has been recognized by the NorthCoast 99 as a top workplace in Northeast Ohio for the past seven years in a row.
Lachina is seeking an experienced and highly motivated candidate for our Media Resource Manager to work in our Champaign, IL office, formally known as Precision Graphics. Reporting directly to the Chief Operating Officer, this position will work directly with the art director and other resource managers, animators, illustrators, interactive designers, and developers, providing production services, making assignments based on project needs and required skill sets, and helping develop design solutions. The media resource manager will oversee the day-to-day operations of the media department in the Champaign, IL and Cleveland, OH offices, lead individual and department meetings, hire and train staff, make project assignments, help build project execution plans, measure team goals, and manage a team of animators and developers. The Media Resource Manager will be responsible for the production of their own projects, as well as provide management oversight for their team. Proven strong management skills are a must, and a working knowledge of various programming languages, Agile development, and familiarity with video and animation production are desired.
Required Qualifications:

Bachelor's degree in computer science, animation, or similar discipline(s)
Exemplary supervisory and management skills with minimum three-years work experience in a supervisory/management role required
Ability to accurately estimate departmental time and resources used to estimate quotes for clients
Must be able to multi-task and handle multiple assigned projects simultaneously
Familiarity with animation (both 2D and 3D) and video production
Familiarity with various programming languages
Familiarity with SVN or other version control systems
Experience with Agile methodologies (Scrum)
Demonstrates excellent verbal and written communication skills
Poses excellent interpersonal and teamwork skills with the ability to influence, motivate, mentor, and lead team resources
Proven track record for influencing others to achieve results that are in the best interest of the organization
Excellent management skills to clearly communicate performance expectations and provide regular feedback to improve employee performance
Experienced with conducting performance reviews and setting goals
Experienced/working knowledge of creating a business plan/forecasting for department
Ability to travel periodically (mostly to the Cleveland, Ohio main office)
Desired Qualifications:

Publishing experience preferred but not required
Familiarity with the Adobe Creative Suite, ExtendScript
Solid familiarity with Microsoft Office including Outlook email
Knowledge of responsive design, progressive enhancement
EPUB (2, 3)
Familiarity with Autodesk Maya
Working knowledge of the following programming languages: HTML5, CSS, JavaScript with jQuery, PHP, Objective-C highly desirable
Experience working with virtual teams a plus
Consulting/client-facing experience desirable
Experience working with a project management tracking tool
Attributes:

Self-directed, self-motivated, and accountable
Well organized
Ability to motivate and inspire creative team
Excellent analytical and problems-solving skills
Ability to work under pressure and meet deadlines
Ability to prioritize and handle multiple projects simultaneously
Willingness to switch gears quickly and be flexible to work on concurrent projects
As a manager be able to see other people's point of view and cope with criticism
Provide quality control over concepts and projects
Proactively keeps abreast of media trends and development tools (software, latest technologies, etc.)
Benefits include 401(k); paid holidays; vacation; and life, medical, and dental coverage.
Please e-mail resumes with a cover letter including salary requirements to [email protected] with "MediaManager-11-2014" in the subject line. No phone calls please. For more information visit https://lachina.com/.
---

Lachina Completes Acquisition of Precision Graphics
Acquisition Extends Capacity for Creation of Innovative Learning Content
CLEVELAND, Ohio [May 21, 2014] — Lachina, a leading developer of innovative educational content, technology and services, announces the acquisition of Precision Graphics, a firm specializing in developing and illustrating visual content for learning products.
The acquisition expands Lachina's visualization capabilities to support faster development of assignable, gradable and visually rich digital content for publishers, universities, biotechnology companies and healthcare organizations.
"We believe the future of educational content is digital, visual and mobile," said Jeff Lachina, CEO of Lachina. "This acquisition strengthens our ability to deliver that future by expanding our services, reinforcing our core competencies and allowing us to scale our operations to speed the development of educational products."
Lachina provides a full range of services to support the conceptualization, development and distribution of educational content, including editorial services, design and production, biomedical illustration and visualization, animation, interactive media, creative direction, assessment and project management. The company's interactive mobile learning platform was developed to support the evolution to digital, mobile-accessible educational content.
"Technology should serve content, not the other way around," Lachina said. "Today, interactive visual content that improves learner success is the focal point of education and training. We are leaders in blending modern learning content with effective educational technologies."
"I couldn't be happier with the outcome of this acquisition," said Jeff Mellander, owner of Precision Graphics. "Integrating Lachina's reputation for exceptional full service content development and production with Precision Graphics' compelling visual content development, offers a unique combination of talent and professional expertise that will be attractive to the publishing industry, educators and students."
Lachina will maintain the Precision Graphics' facility in Champaign, Ill., as the company's primary illustration studio.
About Lachina
Lachina develops unique educational content for publishing clients, biotechnology companies, hospitals and healthcare enterprises. Headquartered in Cleveland, Ohio, Lachina employs multiple means of delivering a core message in an entertaining, comprehensible and scientifically accurate package with verifiable outcomes, including print and digital learning products that educate learners and facilitate the transfer of knowledge to create a better world. For more information, visit https://lachina.com/.
Contact for additional information:
Anthony V. Anselmo
Chief Operating Officer
[email protected]
216 292 7959

---